Ambroxol HCL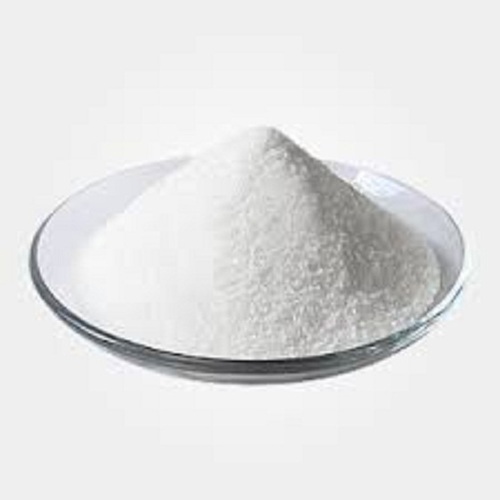 Ambroxol HCL
Price And Quantity
Kilograms/Kilograms

6000.00 - 6500.00 INR
Product Specifications
414.57 Grams (g)

Between 4.5 to 6.0
29222190

468.6 at 760 mmHg
Sweet

90% Less than 90 Microns
Room Temperature

233-234.5
Sparingly soluble in water, soluble in menthanol, practically insoluble in methylene chloride

NMT 20ppm
Ambroxol HCL

Hustless (TN);trans-4-((2-Amino-3,5-dibromobenzyl)amino)cyclohexanol hydrochloride;(2-amino-3,5-dibromo-phenyl)methyl-(4-hydroxycyclohexyl)azanium;18683-91-5;Ambroxol lozenge;Ambroxol Hcl;Altretamine;Mucoangin;Hustless;Mucolear;
23828-92-4

Pharmaceutical Intermediates
Medicine Grade

This is a mucolytic agent that decreases the sputums thickness. It is used to treat pathological mucus secretion disorders, allowing the patient to breathe deeply and freely. In patients with a confirmed history of gastric ulcers, it should be used with caution
0.07%

Solution S is clear
Product Description
Ambroxol HCL is offered by us in high quality. We manufacture, export, distribute, trade, and supply Ambroxol HCL in India as well as other Gulf Countries, African Countries, CIS Countries, South East Asia countries, LATAM countries, Central American Countries and European countries. Our professionals package this product in diverse packaging options that ensure its purity and effectiveness.
Ambroxol HCL Properties:
CAS Number: 23828-92-4
Formula: C13H19Br2ClN2O
Molecular Weight: 414.57
Deleted CAS: 15942-05-9
Synonyms: Hustless (TN); 18683-91-5;Ambroxol lozenge;Ambroxol Hcl;Altretamine;Mucoangin;Hustless;Mucolear;trans-4-((2-Amino-3,5-dibromobenzyl)amino)cyclohexanol hydrochloride;(2-amino-3,5-dibromo-phenyl)methyl-(4-hydroxycyclohexyl)azanium
EINECS: 245-899-2
Density: 1.612 g/cm3
Melting Point: 233-234.5 C
Boiling Point: 468.6 C at 760 mmHg
Flash Point: 237.2 degrees Celsius
Appearance: white crystalline powder
Risk Codes: 22
Safety: 36
Introduction of product:
Among its many uses, ambroxol is used to treat respiratory diseases caused by viscid or excessive mucus. In the form of Mucosolvan, Lasolvan or Mucoangin, it is the active ingredient.
How does it work:
The medication ambroxol belongs to a class of medications called mucolytics. Ambroxol thinning works to make mucus less stickier and assists in its removal from the air passages by making the mucus less sticky.
Glucocerebrosidase, an enzyme that is encoded by the GBA gene, is responsible for Gaucher's disease. Glucocerebroside is a complex lipid molecule that is normally broken down by this enzyme in a specific compartment of the cell called the lysosome. The mutation leads to an incorrect folding of the enzyme that is newly synthesized. The enzyme is thus targeted by the cells' quality control system to be degraded, preventing it from reaching its destination, the lysosomes. It causes symptoms including enlarged liver and spleen, bone pain and fragility, low red blood cell counts (anemia), poor platelet counts (thrombocytopenia), and neuropathy.
Glucocerebrosidase, an enzyme, is folded properly by ambroxol hydrochloride. By promoting the translocation of glucocerebrosidase to lysosomes, the enzyme will help in the processing of glucocerebroside and relieve symptoms of the disease.
Applications. Or where it is used:
Treatment of respiratory tract disorders characterized by viscid mucus is achieved with ambroxol. Ambroxol is a mucolytic. By thinning and loosening mucus (phlegm), it makes coughing more effective.
Manufacturing process:
A method of synthesizing Ambroxol HCl is characterized by the following:
Using Ortho Nitro Benzaldehyde as a starting material, 2-nitro-3 is obtained after bromination, with compound III obtained through reaction of trans-4-amino hexalin with 5-dibromo benzaldehyde.
How to use:
Treatments for respiratory conditions are made easier with ambroxol, which thins and removes mucus (slimy, sticky substance) from the airways. Not with a regular spoon, use a special dose-measuring cup or spoon. A physician should be consulted before using Ambroxol for longer than 14 days.
Dosage of usage:
Adults: 30 mg (one Ambroxol tablet) to 120 mg (4 Ambroxol tablets) divided into 2 to 3 doses daily
Children up to 2 years: half a teaspoonful of this syrup twice daily
Children 2 - 5 years: half a teaspoonful of this syrup 3 times daily
Children over 5 years: One teaspoonful of this syrup 2-3 times daily.
Side effects
The occasional gastrointestinal side effect is usually mild.
Warnings and precautions while using this syrup
Warnings:
Speak to your doctor about a long-term cough
If you have asthma or asthma attacks, do not take
Speak to your doctor if you are experiencing liver issues
Consult your doctor if you have kidney problems
In case of ulcers, do not take this
Pregnant women and those planning a family should avoid
Consult your physician before breastfeeding
Precautions:
If you have any of the following conditions or symptoms, please seek medical advice before using:
Symptoms of pneumonia or any other lung infections such as thick yellow or green mucus, blood-stained mucus, trouble breathing while sleeping, high-grade fever above 38 C, chest pain, etc., or low immune system symptoms or current lung conditions such as cold.
Please notify your healthcare professional if you have serious stomach ulcers, liver or kidney problems.
If you have an allergy to any of the ingredients in this medicine, you should avoid this medication.
First trimester pregnant women should not use Ambroxol. Breastfeeding mothers should avoid taking ambroxol as it is excreted in the breast milk.
Trade Information
Mumbai

Letter of Credit (L/C), Letter of Credit at Sight (Sight L/C), Cash Advance (CA), Delivery Point (DP), Days after Acceptance (DA), Cash in Advance (CID)
Yes

Free samples are available
25Kgs drum pack

Australia, South America, Eastern Europe, Western Europe, Middle East, North America, Africa, Central America, Asia
All India

GMP and ISO certificate