Amoxicillin Trihydrate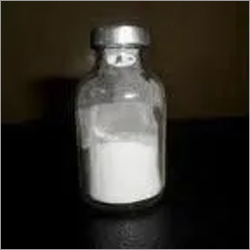 Amoxicillin Trihydrate
Price And Quantity
Product Specifications
Veterinary Raw Materials

Powder
Animal Extract

Horse, Dogs, Special Breed Animal, Cattle
Product Description
Amoxycillin Trihydrate is a generic antibiotic that is often prescribed as Morisot, Biomox, Amoxil, Trimox, Wymox and Dispermox. It is commonly used to treat bacterial infections in the body such as skin infections, gonorrhoea, tooth infections, tonsillitis, ear infections, inflammatory illness of the lung, urinary tract, bronchitis, etc.

Properties:
CAS No.: 61336-70-7
Formula: C16H25N3O8S
Molecular Weight: 419.449 g/mol
Synonyms: 4-Thia-1-azabicyclo[3.2.0]heptane-2-carboxylicacid, 6-[[(2R)-amino(4-hydroxyphenyl)acetyl]amino]-3,3-dimethyl-7-oxo-,trihydrate, (2S,5R,6R)- (9CI);4-Thia-1-azabicyclo[3.2.0]heptane-2-carboxylicacid, 6-[[amino(4-hydroxyphenyl)acetyl]amino]-3,3-dimethyl-7-oxo-, trihydrate,[2S-[2a,5a,6b(S*)]]-;Alfoxil;Amoksina;Amoxyl;Atoksilin;Demoksil;Largopen;Moksilin;Promoxil;Remoxil;Topramoxin;
Boiling Point: 743.2 C at 760 mmHg
Flash Point: 403.3 C
Appearance: White CRYSTALLINE powder
Parent Compound: amoxicillin (CID 33613)
Active ingredient in Amoxil is amoxicillin (as trihydrate). This medication is in the penicillin family. Amoxicilllin kills the bacteria responsible for these infections. In addition, it can help prevent infections.
Applications Or where it is used:
Penicillin antibiotics, such as amoxicillin, fight bacteria. Numerous types of bacterial infections are treated with amoxicillin, including tonsillitis, pneumonia, bronchitis, and infections of the ear, nose, throat, skin, or urinary tract.
This antibiotic is synthesized by combining p-hydroxyphenyl glycine methyl ester (PHPGME) with 6-aminopenicillanic acid (6-APA). Two side reactions occur: p-hydroxyphenyl glycine (PHPG) is generated by hydrolysis of PHPGME and 6-APA and PHPG is formed by hydrolysis of amoxicillin
AMOXIL (amoxicillin) should only be used to treat infections proven or strongly suspected to be caused by bacteria to prevent the development of drug-resistant bacteria and to maintain its effectiveness. Antibacterial therapy should be selected or modified based on culture and susceptibility information. In the absence of such data, local epidemiology and susceptibility patterns may assist with empiric selection of therapies.
Side effects:
Serious side effects caused by this medication include:
Hives
Fever
Difficulty breathing
Swelling (face, lips, tongue, or throat)
Sore throat
Skin pain
Red or purple skin rash severe stomach pain
Burning eyes
Watery or bloody Diarrhea
The symptoms listed above require immediate medical attention.
Warnings and precautions while using this product
Patients on penicillin therapy, including amoxicillin, can experience severe and sometimes fatal hypersensitivity reactions (anaphylactic). Anaphylaxis is more common following parenteral therapy than oral penicillin therapy. Those who have a history of penicillin hypersensitivity and/or multiple allergies are more likely to experience these reactions. It has been reported that people with a history of penicillin hypersensitivity have experienced severe reactions when given cephalosporins. Before beginning therapy with AMOXIL, it is important to ask whether there have been any earlier reactions to penicillins, cephalosporins, or other allergens.
Trade Information
Cash Advance (CA), Cash in Advance (CID)

1000 Per Day
7 Days

Middle East, Central America, Eastern Europe, Africa, South America, Australia, Western Europe, Asia, North America