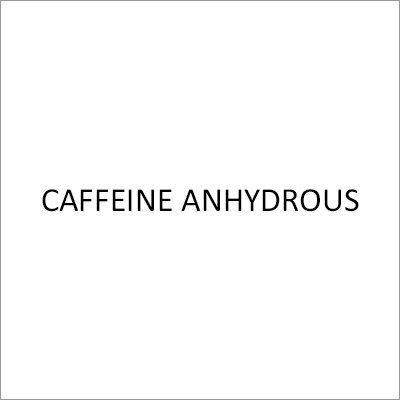 Caffeine anhydrous
Product Specifications
Room Temperature

200-362-1
7.18% MCwb and 7.74% MCdb

281 : not more than 0.1%.
234-236.5 °C(lit.)

0.5% Residue on ignition (as SO4): 0.1 % Sulfate (SO4): 0.05%
Assay Not less than 98.5% and not more than the equivalent.

29393000
194.22 Kilograms (kg)

(10g/l, 25℃)
<20ppm (BP); Lead: <1mg/kg (FCC); Sulphates: <500ppm (BP).

> 95% through 40 ...
416.789 °C at 760 mmHg

CAFFIENE (NATURAL)
Food Grade

Caffeine is a nervous system stimulant that clears drowsiness and gives you an energy boost.
Min. 98.0%.

white to light yellow crystal powder
Pharmaceutical Industry

Caffeine Anhydrous
Product Description
58-08-2

Name:Caffeine

C8H10N4O2

Molecular Weight:

194.22

Synonyms:
1H-Purine-2,6-dione,3,7-dihydro-1,3,7-trimethyl-;1,3,7-Trimethyl-2,6-dioxopurine;1,3,7-Trimethylxanthine;3,7-Dihydro-1,3,7-trimethyl-1H-purine-2,6-dione;7-Methyltheophylline;Alert-Pep;Asiamigrine;DHCplus;Durvitan;Guaranine;Koffein;Mateina;Methyltheobromine;Midronextra;Miudol;Phensal;Refresh'n;SK 65 Compound;Shape Plus;StayAlert;Theine;
EINECS:
200-362-1
Density:
1.45 g/cm3
Melting Point:
234-236.5 °C(lit.)
Boiling Point:
416.789 °C at 760 mmHg
Flash Point:
205.867 °C
Solubility:
20 g/L (20 °C) in water
Appearance:
white to light yellow crystal powder
Risk Codes:
22-25
Safety:
16-36/37-45
Transport Information:
UN 1544 6.1/PG 3
AvailableForms:
Powder
Method:

     Recrystallization.
 is made from the seeds and leaves of coffee plants. The word "
anhydrous
" means "without water." After harvesting,Â
caffeine
 is extracted from the plant matter and dehydrated. This produces a highly concentratedÂ
caffeine
 powder.

Caffeine anhydrous is becoming more popular as a supplement for weight loss and improved athletic performance. It is also present in food products such as caffeinated gum and energy bars. Anhydrous means without water and caffeine anhydrous is a processed, dehydrated form of caffeine.
Trade Information
MOQ: 2 Million boxes

10000 Per Month
Free samples are available

HDPE Drums.