Diminazene Diaceturate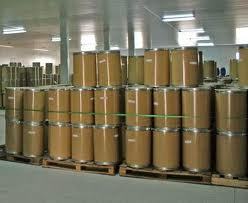 Diminazene Diaceturate
Price And Quantity
Kilograms/Kilograms

25.00 - 50.00 INR
Product Specifications
Veterinary Raw Materials

Liquid
Solution Compound

Special Breed Animal, Dogs, Horse
Product Description
In Gujarat, India, we are leading manufacturer of Diminazene Diaceturate. Our professionals properly package this product in a variety of packaging options to ensure purity and effectiveness. Diminazene, which is also known as diminazen, is an anti-infective medication for animals that is available under a number of brand names. Among the protozoa it is effective against are Babesia, Trypanosoma, and Cytauxzoon. Furthermore, the drug is also effective against some bacteria, including Brucella and Streptococcus. Diaceturate Diminazene is currently exported to countries in the Gulf, South East Asia, African, CIS, Latin American, Central American and European regions.
Diminazene Diaceturate Properties:
CAS Number: 908-54-3
Name: Diaminazene aceturate
Formula: C22H29N9O6
Molecular Weight: 398.42
Synonyms: 4,4-(Diamino)dibenzamide diaceturate;Di-Iminazene Di Aceturate B. Vet;Diminazene Diaceturate and Antipyretic for injection (granule);Glycine, N-acetyl-, compd. with 4,4- (1-triazene-1,3-diyl)bis[benzenecarboximidamide] (2:1);Glycine, N-acetyl-, compd. with 4,4-(diazoamino)dibenzamidine (2:1);AzidesAzidin;Di-(4-amidinophenyl)-triazine-(N-1,3)-diaceturate;Glycine,N-acetyl-,compd. with 4,4'-(1-triazene-1,3-diyl)bis- [benzenecarboximidamide] (2:1);4, 4-Diamidinodiazoaminobenzene diaceturate; Azidin;4,4-Diamidinodiazoaminobenzene diaceturate;1,3-Bis[4-guanylphenyl]triazene diaceturate;N-Acetylglycine, compound with 4,4-(1-triazene-1,3-diyl)bis(benzenecarboxamidine) (2:1);Bevenil; 4-[2-(4-carbamimidoylphenyl)iminohydrazinyl]benzenecarboximidamide;1,3-Bis (p-amidinophenyl)triazene bis(N-acetylglycinate);Berenil;Ganaseg;Glycine, N-acetyl-, compd. with 4, 4- (diazoamino)dibenzamidine (2:1);Di-(4-amidinophenyl)-triazen-(N-1,3)-diaceturat [German];Ganasag;Benzenecarboximidamide, 4,4-(1-triazene-1,3-diyl)bis-;
EINECS: 212-999-2
Boiling Point: 463.3 C at 760 mmHg
Flash Point: 234 C
CAS Registry Number : 908-54-3
How does it work?
As with pentamidine, diminazene aceturate is a diamidine soluble in water and with a Molar Ratio of 587.
Applications Or where it is used:
Dipinazene aceturate is used parenterally to treat babesiosis, African trypanosomiasis, and, more recently, infections with Rangelia vitalii, a new protozoal pathogen of dogs from Brazil.
Manufacturing process:
A method for producing diminazene aceturate is disclosed in the invention. The method involves: synthesizing p-nitrobenzonitrile from p-nitrobenzamide using triethylamine and thionyl chloride, and then performing addition, amination, reduction, diazotization, coupling, and salt formation on p-nitrobenzonitrile to yield diminazene aceturate. The use of P-nitrobenzamide as a raw material in the synthesis of p-nitrobenzonitrile alleviates the need for high-temperature reactions, and facilitates industrial production; urea is added in the diazotization and coupling reactions to improve yield; a reaction product generated post the coupling reaction involves water supply and pH adjustment directly without filtering, heating, dissolving or cooling steps, which simplifies and shortens the reaction time; and water and methanol are used as solvents in the salt formation, reducing the volatilization of methanol, and diminazene aceturate crystals are improved.
How to use:
Dogs are administered diminazene aceturate parenterally for babesiosis, African trypanosomiasis, and other parasitic diseases.
Side effects:
Below are some possible side effects of medications containing Diminazene Aceturate/ Phenazone. These are not all possible side effects. It is possible that some of these side effects may occur. Some of the side effects may be severe, but rare. Consult your doctor if any of the following side-effects persist.
Nausea
Skin eruptions
Hemolytic anemia
Coma
Convulsions
Hypersensitivity reactions
Porphyria
Drowsiness
Diminazene Aceturate / Phenazone may also cause side-effects not listed here.
You should contact your physician if you experience any other side effects that are not listed above. Alternatively, you can contact your local food and drug administration to report side effects.
Warnings and precautions while using this product
Before using Diminazene Aceturate / Phenazone, tell your doctor about all the medications you use. People with certain health conditions are more likely to experience side effects while taking prescription medication. The product insert will include directions on how to use the product. Follow your doctor's instructions. Your doctor will prescribe the dosage. Let your doctor know if anything changes. The following points are important to consider:
Pregnancy and breastfeeding should be avoided
Take this drug only if you are not allergic to it.
Trade Information
Cash in Advance (CID), Cash Advance (CA)

1000 Per Day
North America, Asia, Australia, Central America, South America, Eastern Europe, Western Europe, Middle East, Africa

ISO 9000:2015 and DUNS certified.