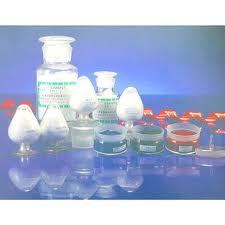 Diphenhydramine Hydrochloride
Price And Quantity
Kilograms/Kilograms

700 to 800 INR
Product Specifications
Very soluble in water, freely soluble in alcohol.

C17H22ClNO
Room Temperature

C17H21NO
Pharmaceutical Intermediates

Medicine Grade
Diphenhydramine is an antihistamine used to relieve symptoms of allergy, hay fever, and the common cold. These symptoms include rash, itching, watery eyes, itchy eyes/nose/throat, cough, runny nose, and sneezing. It is also used to prevent and treat nausea, vomiting and dizziness caused by motion sickness.

≥98%.
White crysatlline powder

Powder
Product Description
Diphenhydramine Hydrochloride Properties:
CAS Number:147-24-0
Formula: C17H21NO.HCl
Molecular Weight: 291.85
Deleted CAS: 8052-21-9
Synonyms :Ethanamine,2-(diphenylmethoxy)-N,N-dimethyl-, hydrochloride (9CI);2-Diphenylmethoxy-N,N-dimethylethylamine hydrochloride;Alledryl;Allergina;Amidryl;Bagodryl;Bena;Benadrilhydrochloride;Benison;Benodine;Benzantin;Benzhydrol b-dimethylaminoethyl ether hydrochloride;Denydryl;Dibondrin;Dimedrol;Diphantine;Fenylhist;
EINECS: 205-687-2
Density: 1.024 g/cm3
Melting Point: 168-172 °C
Boiling Point: 343.7 °C at 760 mmHg
Flash Point: 101.5 °C
Solubility: 1000 g/L in water
Appearance: White crystalline powder
Form: Powder
Color: White
Introduction
Diphenhydramine Hydrochloride offered by us, is mainly used for curing allergies, hay fever, cold and so on. This medicine is also used to prevent and treat nausea, vomiting and dizziness caused by motion sickness. This medicine is clinically tested under various parameters to ensure its high quality. It is also used to relieve cough caused by a minor throat. This product is very effective and can be easily availed at reasonable prices, by our eminent customers, in bulk quantities.
How does it work
An allergic reaction triggers your body to make a certain chemical substance (histamine), which is blocked by this medication. As well as drying out these symptoms, it also blocks another natural substance made by your body (acetylcholine).
Applications. Or where it is used
A diphenhydramine based medication used to relieve allergy symptoms, hay fever, and colds. A rash, itching, watery eyes, itching of the eyes, nose, and throat, coughing, runny nose, and sneezing are the common symptoms. Besides treating motion sickness and preventing nausea, it also prevents nausea and vomiting.
How to use
In allergy, cold, and cough treatment, diphenhydramine is usually taken every four to six hours. Diphenhydramine is taken to treat motion sickness 30 minutes before departure, and, if necessary, before meals and before bed.
Dosage of usage
Dosages of Diphenhydramine:
Oral liquid/solution
12.5 mg/5 ml (Benadryl Allergy Childrens, PediCare Children's Allergy, Allergy Relief Childrens)
50 mg/30 ml (ZzzQuil)
Elixir
Syrup
12.5 mg/ml (Altaryl, Quenalin, Silphen Cough)
Tablet
25 mg (Benadryl, Nytol, Simply Sleep, Sominex, Simply Allergy, Tetra-Formula Nighttime Sleep)
50 mg (Aler-Dryl, Nytol Maximum Strength)
Capsule
25 mg (Benadryl Allergy Dye-Free Allergy, Diphenhist, Geri-Dryl, Anti-Hist Allergy, Allergy Relief)
50 mg (Banophen, Pharbedryl)
Chewable Tablet
12.5 mg (Benadryl Allergy Childrens)
Dispersible Tablets
25 mg (Unisom SleepMelts)
Strip
12.5 mg (Triaminnic Cough/Runny Nose)
Injectable solution
Side effects
Common side effects include:
dry mouth
dry nasal mucosa
dry throat
thick bronchial sputum
low white blood cell count
sedation
confusion
disrupted nerve impulses
low count of blood platelets
convulsions
elevated heart rate
low blood pressure
nervousness
restlessness
blurred vision
constipation
menstrual irregularities
euphoria
loss of appetite
urinary retention
inflammation of nerves
double vision
ringing in the ears (tinnitus)
Trade Information
Any indian port

Cash Against Delivery (CAD), Letter of Credit (L/C), Cash in Advance (CID), Cash Advance (CA)
Yes

Free samples are available
drum packing

Africa, Middle East, Western Europe, Eastern Europe, South America, North America, Central America, Australia, Asia