Fluticasone Furoate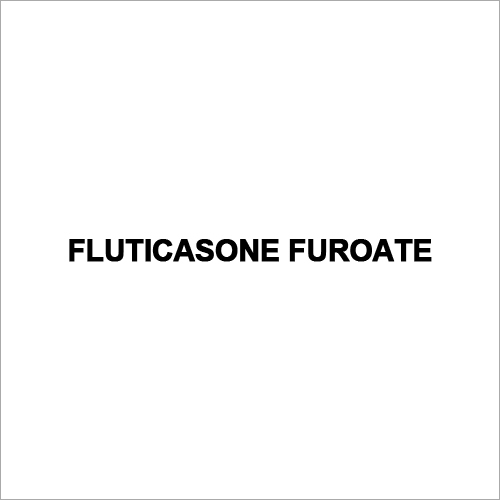 Fluticasone Furoate
Product Description
We are offering high quality of Formoterol Fumarate We are known for manufacturing,exporting, distributing, trading and supplying Formoterol Fumarate in Gujarat, India. Further, this is safely packaged by our professionals in diverse packaging options that maintain its purity and effectiveness.
Shreeji Pharma International currently export Formoterol Fumarate to countries like Gulf Countries, South East Asia countries, African Countries, Central America and in European countries
Introduction of product:
Formoterol, also known as eformoterol, is a long-acting 2 agonist (LABA) used as a bronchodilator in the management of asthma and chronic obstructive pulmonary disease (COPD).
How does it work:
Formoterol must not be used alone to treat asthma. (See also Warning section.) It works by relaxing the muscles around the airways so that they open up and you can breathe more easily. Controlling symptoms of breathing problems can decrease time lost from work or school.
Applications. Or where it is used:
Formoterol is a long-acting bronchodilator used as a long-term (maintenance) treatment to prevent or decrease wheezing and trouble breathing caused by asthma or ongoing lung disease (chronic obstructive pulmonary disease-COPD, which includes chronic bronchitis and emphysema).
How to use:.
Inhale the contents of the capsule by mouth using the inhaler device, usually one capsule twice daily (morning and evening) or as directed by your doctor. The two doses should be about 12 hours apart. Formoterol must always be used with its own special inhaler device.
Side effects:
Shakiness (tremor), nausea, headache, dizziness, nervousness, dry mouth, stomach upset, tiredness, trouble sleeping, or hoarseness may occur. If any of these effects persist or worsen, tell your doctor or pharmacist promptly.
To relieve dry mouth, suck on (sugarless) hard candy or ice chips; chew (sugarless) gum, drink water, or use a saliva substitute.
Remember that this medication has been prescribed because your doctor has judged that the benefit to you is greater than the risk of side effects. Many people using this medication do not have serious side effects.
This medication may raise your blood pressure. Check your blood pressure regularly and tell your doctor if the results are high.
Tell your doctor right away if any of these unlikely but serious side effects occur: fast breathing, muscle weakness/cramping, fast/pounding/irregular heartbeat, increased thirst/urination.
Seek immediate medical attention if any of these rare but very serious side effects occur: chest pain, severe dizziness, fainting.
A very serious allergic reaction to this drug is rare. However, seek immediate medical attention if you notice any symptoms of a serious allergic reaction, including: dizziness, rash, itching/swelling (especially of the face/tongue/throat), trouble breathing.
Rarely, formoterol can cause a worsening of breathing problems (paradoxical bronchospasm) that may be life-threatening. If this occurs, immediately seek medical attention.This is not a complete list of possible side effects. If you notice other effects not listed above, contact your doctor or pharmacist.
Warnings and precautions while using this product
For people with heart problems, including high blood pressure: This drug may cause chest pain, high or low blood pressure, fast heart rate, and irregular heart rhythms. These effects may make your heart problem worse. Let your doctor know if you have heart disease.
For people with seizures: This drug may increase your risk for seizures. Let your doctor know if you have a seizure disorder or epilepsy before starting this drug.
For people with thyroid problems: This drug may increase thyroid activity. If you have high thyroid levels, talk to your doctor about whether this drug is safe for you.
For people with diabetes: This drug may increase your blood sugar levels. Tell your doctor if you have diabetes before you take this drug.
For people with an immune system problem: This drug weakens your immune system, which raises your risk of getting infections. Avoid contact with people who have contagious diseases, such as chicken pox or measles. Talk to your doctor about whether this drug is safe for you if you have tuberculosis, untreated infections, or herpes simplex in the eye.
For people with weak bones or osteoporosis: This drug can cause decreases in bone strength. If you have weak bones or risk factors for osteoporosis, your doctor will monitor you closely to make sure this medication is safe for you to take.
For people with eye problems: This drug can cause eye problems, such as increased pressure inside your eyes, glaucoma, and cataracts. Let your doctor know if you have a history of these eye problems. You should have your vision checked regularly while you take this drug.
For people with liver problems: This drug is processed by your liver. If you have liver disease, more of this drug may stay in your body longer and increase your risk of side effects. Your doctor will monitor you closely while you take this drug.