Phospholipid Powder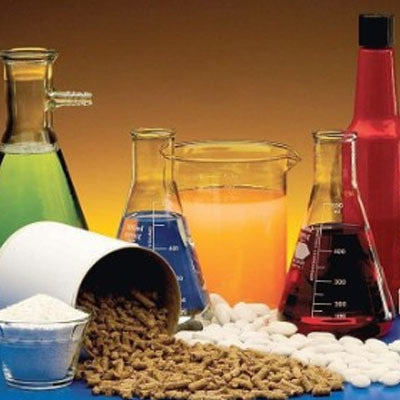 Phospholipid Powder
Price And Quantity
Kilograms/Kilograms

600.00 - 800.00 INR
Product Specifications
Phospholipids supplied as an organic solution should be stored in a glass container layered with argon or nitrogen at -20C 4C
Product Description
The high quality Phospholipid produced in Gujarat based facility is pure and effective. Phospholipids, also called as phosphatides, belong to the class of lipids. Its molecule comprises hydrophilic "head" containing a phosphate group, and two hydrophobic "tails" obtained from fatty acids, combined by a glycerol molecule. All cell membranes contain phospholipids. Their amphiphilic nature allows them to form lipid bilayers. Other types of lipids, sterols, are interspersed among the phospholipids in eukaryotes' cell membranes.
Technical Specifications:
CAS NO: 123465-35-0
Synonyms: Phospholipid
Appearance: White powder
Water soluble: Miscible
Storage condition: 2-8oC
How does it work:
Glycerol molecules, two fatty acids, and a phosphate group make up phospholipids. An example of a negatively-charged polar head is phosphate, which is hydrophilic. Those nonpolar fatty acid tails are hydrophobic and uncharged. As part of their ability to form cell membranes, phospholipids have a hydrophilic (water-loving) head, while the tails are hydrophobic (water hating). Membranes are formed by phospholipids holding on to each other with the heads outside the cell and the tails inside.
Applications Or where it is used:
The phospholipids are amphiphilic lipids with a glycerol or sphingosine backbone, which is esterified to one or two fatty acids, a phosphate group, and a hydrophilic residue. Emulsifiers are extensively used to control lipid oxidation through their properties as antioxidants. Phospholipids serve as emulsifiers, allowing oils to form a colloid with water. Phytolipids are components of lecithin, which you can find in eggs along with soy beans, and can be bought as supplements. The phospholipids in lecithin are used as a food additive for many other products.
How to use:
Phospholipids are surface-active, which is why are different from triglycerides. They are used as emulsifiers in food products as they migrate to the interface between oil and water, and minimize the inter-facial tension, resulting in stability in emulsion. Commercial phospholipid preparations are known as lecithin.
Side effects:
Phospholipids are effective for a few diseases, and do not cause any severe side effects. Additionally, they have been shown to reduce the side effects of a few drugs.
Trade Information
mumbai india

Telegraphic Transfer (T/T), Letter of Credit (L/C), Cash in Advance (CID), Cash Against Delivery (CAD)
Free samples are available

DRUM
Africa, Middle East, Western Europe, Eastern Europe, South America, North America, Central America, Australia, Asia

ISO ,GMP