Rafoxanide Powder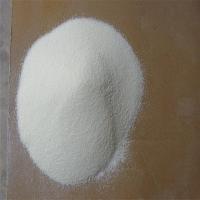 Rafoxanide Powder
Price And Quantity
Kilograms/Kilograms

2500 INR
Product Specifications
Veterinary Raw Materials

Powder
Other

Rafoxanide is an effective drug for treating F. hepatica infection in sheep and cattle. An oral dose of 10-15 mg/kg of this anthelmintic eliminates 91-99% of the mature flukes and 50-90% of the younger flukes in ruminants.
Sheep, Pets, Cattle

25 Kilogram(Kg)
Product Description
Rafoxanide offered by us, is widely used in the treatment and control of liver flukes, gastrointestinal roundworms in sheep, cattle, goats. This medicine is clinically tested under various parameters to ensure its high quality and effectiveness. This medicine should not be used for livestock, dogs, cats. Our product should be taken on your doctor's prescription. This medicine should be given as per the dosage. This medicine is very effective as well as economical and safe to use.
Rafoxanide Properties:
CAS No.: 22662-39-1
Formula: C19H11Cl2I2NO3
Molecular Weight: 626.02
Synonyms: Salicylanilide,3'-chloro-4'-(p-chlorophenoxy)-3,5-diiodo- (8CI);3,5-Diiodo-3'-chloro-4'-(p-chlorophenoxy)salicylanilide;3,5-Diodo-3'-chloro-4'-(p-chlorophenoxy)salicylanilide;3'-Chloro-4'-(4-chlorophenoxy)-3,5-diiodosalicylanilide;3'-Chloro-4'-(p-chlorophenoxy)-3,5-diiodosalicylanilide;Disalan;NSC 355278;Ranide;Benzamide,N-[3-chloro-4-(4-chlorophenoxy)phenyl]-2-hydroxy-3,5-diiodo-;
EINECS: 245-148-9
Density: 2.05 g/cm3
Boiling Point: 526.6 C at 760 mmHg
Flash Point: 272.3 C
How does it work
A halogenated salicylanilide, razoxanide is used as a fasciolicide on cattle, sheep, goats, and horses. Rasfoxanide works by uncoupling oxidative phosphorylation of flukes, thus resulting in decreased ATP levels and reduced glycogen content, as well as accumulating sucinate.
Applications. Or where it is used
The insecticides Closantel and Rafoxanide are widely used in the control of infestations in Hemonchus species and Fasciola species of sheep and cattle, as well as Estrus ovises in sheep. Animals across the spectrum are treated with niclosamide as an anticestode.
Manufacturing process
An invention relevant to medicine is a rafoxanide preparation and method of preparing it. The rafoxanide is prepared following the formula: 0.5% of tween, 0.5%-2% of citric acid, 0.5%-2% of sodium citrate, 5% of rafoxanide, 4%-10% of polyethylene glycol, and the balance of water. It is possible to store the rafoxanide preparation for a longer time. During the preparation, rafoxanide is uniformly distributed. The simple production process is economical as well.
Dosage of usage
Rafoxanide is an antiparasitic active ingredient used in veterinary medicine against internal parasites in livestock. Farming and household pests cannot be controlled with it. In chemical terms, it is a salicylanilide.
Rapoxanide works against a limited range of roundworms (mostly blood-sucking species), as well as flukes (e.g. Fasciola hepatica). Some myiasis can also be treated with it. Neither tapeworms nor external parasites are treated with it. It is used rarely in ruminants, including both injectables and drenches, often in conjunction with other anthelmintic agents. Swine, poultry, horses, and pets cannot be treated with it.
Side effects
Below are some effects:
Loss of appetite
Weakness
Visual disturbance
Blindness
Warnings and precautions while using this product
Measure body weight accurately when using on animals. Make sure the equipment is calibrated properly. Precautions to be taken by the person administering a veterinary medicinal product to the animal. Splashes into the eyes should be immediately washed out with water.
Trade Information
Letter of Credit (L/C), Letter of Credit at Sight (Sight L/C), Cash Against Delivery (CAD), Cash in Advance (CID), Cash Advance (CA)

1000 Per Day
Free samples are available

DRUM
Middle East, Eastern Europe, North America, Australia, Central America, South America, Asia, Western Europe, Africa

ISO ,GMP