Sodium Citrate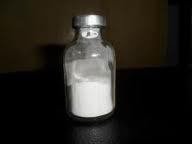 Sodium Citrate
Price And Quantity
Kilograms/Kilograms

25.00 - 50.00 INR
Product Specifications
58.06 g/mol GSM (gm/2)

300C
Room Temperature

Na3C6H5O7
Sodium Citrate

Pharmaceutical Intermediates
Product Description
Sodium Citrate serves as a urine alkalinizer. Bicarbonate is produced after it is absorbed. Treatments for metabolic acidosis use the generated bicarbonate to buffer excess hydrogen ions in the blood and raise its pH.
Properties:
Name: 1,2,3-Propanetricarboxylicacid, 2-hydroxy-, sodium salt (1:3)
Superlist Name: Sodium citrate
CAS No.: 68-04-2
Formula: C6H5Na3O7
Molecular Weight: 258.08
Deleted CAS: 183748-56-3|8055-55-8|856354-90-0
Synonyms: 1,2,3-Propanetricarboxylicacid, 2-hydroxy-, trisodium salt (9CI); Citrosodina;Citrosodine;Cystemme;Ional;Natrocitral;Sodium citrateanhydrous; Citric acid, trisodium salt (8CI);Sodiumcitrate (Na3C6H5O7) (7CI);331iii;Citnatin;Citra-lock;Citreme;Trisodium citrate;Unifine P 3;
EINECS: 200-675-3
Density: 1.008 g/mL at 20 C
Melting Point: 300 C
Boiling Point: 309.6 C at 760 mmHg
Flash Point: 155.2 C
Appearance: White to off-white crystalline powder
Risk Codes: 22-40-48/20/22
Safety Description: 36-24/25
How does it work?
It has a sour taste like citric acid. Its medical use is as an alkalinizing agent. The agent neutralizes excess acid in the urine and blood. Metabolic acidosis can be treated with it.
Applications Or where it is used:
Sodium citrates are emulsifiers for oil and acidity regulators that are added to food and drinks. When added to cheese, they prevent it from becoming greasy. They also prevent food from becoming acidic. The clotting of donated blood in storage is prevented by sodium citrate.
Manufacturing process:
An ordinary method for preparing sodium citrate is to add sodium carbonate monohydrate to a warm aqueous 5 solution of citric acid. After evaporating the solution, the crystals are formed. Calcium citrate can also be converted into sodium citrate by decomposing it with an alkali metal salt.
How to use:
Each time you use the container, shake it well. By mouth, usually 4 times a day, or as directed by your doctor.
Dosage of usage:
Dosage Forms and Strengths
Sodium citrate/citric acid (1 mEq sodium equivalent to 1 mEq bicarbonate)
Oral Solution
(490mg/640mg)/5mL
(500mg/334mg)/5mL
Dosage Considerations Should be Given as Follows:
Urine Alkalinization, Prevention of Nephrolithiasis
Adults: 10-30 mL mixed in up to 6 oz water/juice orally post meals and at bedtime as required
Children 2 years and older: 5-15 mL mixed in 30-90 mL of water/juice orally post meals and at bedtime as required
Children under 2 years: Based on physician's discretion
Follow with additional water if required
Side effects of sodium citrate/citric acid include:
Diarrhea
Vomiting
Stomach pain
Nausea
Muscle spasms
Metabolic alkalosis
Fluid retention
There may be additional side effects not mentioned in this list. Consult your doctor for more information.
Warnings and precautions while using this product:
Kidney failure
Severe heart damage
Addison's disease
High levels of potassium in your blood
If you are severely dehydrated
Trade Information
Cash Advance (CA), Cash in Advance (CID)

1000 Per Day
7 Days

Asia, Australia, Central America, North America, South America, Eastern Europe, Western Europe, Middle East, Africa